Discover the best purple Twitch overlays for your channel with this curated list. There's no denying the impact and importance of using well designed stream overlays. So, if you're a fan of the color purple, you're in for a treat. Purple is a color that exudes creativity, passion, and a touch of regal elegance. From deep, majestic hues to vibrant and playful shades, we've put together this list of overlays to help you in finding visuals that align seamlessly with your unique identity.
From minimalist designs to magical themes, this extensive list of overlays has something for everyone. It's time to unlock the regal allure of purple and elevate your branding to new allowing your personality to shine through.

We've made sure all overlays on the list are compatible with the top streaming platforms such as Twitch, YouTube, Facebook & Kick. Additionally, they're optimized for top broadcasting software like OBS and Streamlabs.
P.S. Keep an eye out for freebies. We've included a couple of free purple Twitch overlays for you to find.
Aquarius - Ultimate Purple Twitch Overlay
This package has held the top spot among our purple twitch overlay packages for quite some time.
Chill Nights - Lofi Purple Twitch Overlays
Stellar - Purple Overlays
Downtown - Purple City Twitch Overlay
Elemental - Fantasy Purple Overlays
Iris - Clean Purple Twitch Overlay
Nocturnal - Purple Overlays
Melody - Musical Overlays
Stardust - Purple Space Overlays
Northern Lights - Glowing Purple Twitch Overlay
Glimmer - Neon Purple Twitch Overlays
Impulse - Glowing Purple Stream Overlay
Rosa - Light Purple Overlay
Summit - Purple Landscape
Coffee Inn - Free Purple Twitch Overlay
Kawaii - Free Purple Overlays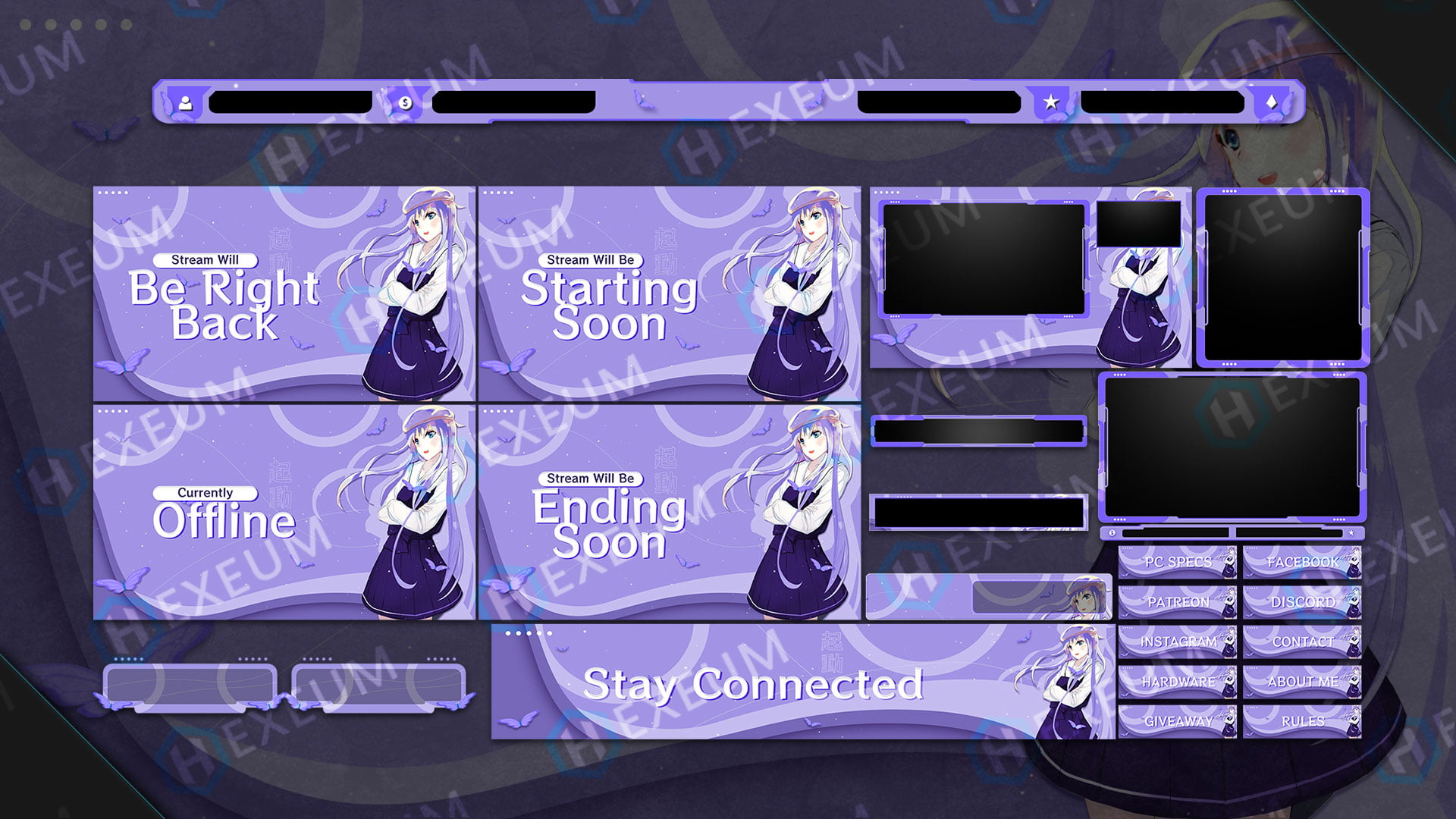 Torus - Free Space Overlays
Convex - Purple Twitch Overlay Freebie
Sway - Yellow & Purple Overlays
As the popularity of live streaming grows, so does the ability to set your stream apart from others. Utilizing overlays that complement your branding and personality is absolutely essential, not only to make a great first impression, but also a lasting one. As we've seen in our list of purple Twitch overlays, the color is a guaranteed way of adding a touch of elegance and to your branding.
From the magical and energetic to the majestic fantasy, each overlay in our list demonstrates the wide variety of styles available and how they can be aligned with your unique persona.
Choosing your overlays is a journey, and some even find making a decision to be quite difficult. Oftentimes by exploring some other similar or different styles you can really start working out what does and doesn't work for you. You could try alternative colors like red overlays, or even check out a unique style like just chatting overlays.