If you're a VTuber looking for a stream overlay to match your style then you've come to the right place. We've spent time searching the web to find and showcase the best VTubers overlays for Twitch to add to your stream. Although no two VTubers are the same we noticed certain styles are hugely popular within the VTuber community. Cutesy and kawaii style overlays are very commonly used by Vtuber streamers. For this reason, we've put together a list of designs in line with those styles. However we've also sprinkled in some other popular styles. We'll be showing you both free Vtuber overlays and premium ones for those of you eager to jump in and overhaul your channel.
Free Vtuber Overlay by Hexeum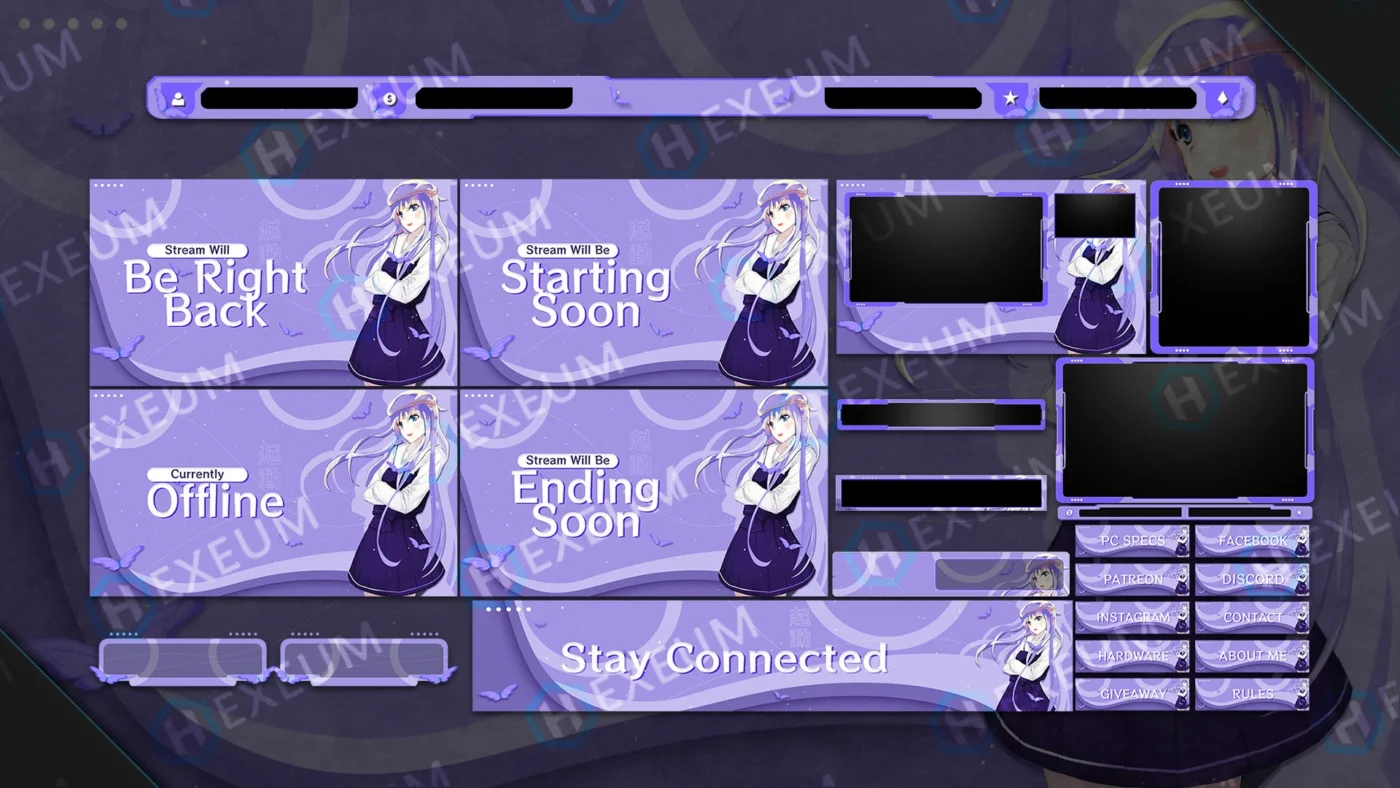 Soft Pink Overlays - Constellation Aesthetic
Emerald Green Stream Package
Warm Purple Stream Package - Vampire Aesthetic
Our Ancient Egypt package has proved quite popular within the Vtubing community, as you can see from the screenshot of Eevalon's channel which has an Egyptian theme. It's a premium pack and it's got every asset you need to give your channel a fresh look and full make-over.
Gold Celestial Overlay by Hexeum
Mystic Vtuber Overlay by Hexeum
Free Vtuber Overlays by Fumi
Cozy Stream Screens by NekoKeno
Mystic Floral Moon Set by Moshi Mochi
Celestial Sky by Moshi Mochi
This beautiful dark blue package is a sophisticated choice for VTubers who want to give their channel a high-end feel. The package includes an array of useful features such as 7 animated screens. These animated screens are also available in static versions. The delivered file formats are WebM and PNG so you'll have no issues using them with the most common stream software.
We hope this list has helped you find a VTuber stream overlay that you truly love. As mentioned previously the packages featured are both free and premium to be inclusive to as many people as possible. Remember in the case of free assets and graphics, it costs you nothing to show the original creator support by following or liking their work.
From what we've seen VTubers tend to gravitate towards either clean and minimalistic designs or ones with a strong theme that aligns with their personality. Based on this our list includes overlays that align with these features.
Finding the right overlay for your personality can take time. If you're struggling to find something that matches your personality, consider broadening your search. There are plenty of styles out there to choose from including cute overlays or retro 8-bit overlays.
VTuber overlays are any graphic or background used by Vtubers during their stream. Most commonly the VTuber model is set in the foreground with the overlays occupying the backdrop.
Overlays are a great way to compliment the Vtubers avatar and really reinforce the characters personality.
This can be done with broadcasting software such as OBS which is the most popular option amongst VTubers. It's also completely free & open source.
We've covered how to add overlays to OBS in detail before. We highly reccomend you check that out if you're struggling with the set up.
From our experience VTubers like to get super creative with their overlays. If this sounds like you then perhaps all you need is an animated VTuber background.

These cost much less than a full streaming pack, but of course there's a lot more time spent on configuring your setup this way.