If you're a VTuber looking for a stream overlay to match your style then you've come to the right place. We've spent time searching the web to find and showcase the best VTubers overlays to add to your stream. Although no two VTubers are the same we noticed a trend of cutesy and kawaii style overlays that were commonly used by Vtuber streamers. For this reason, this post will mainly focus on overlays that fall into those categories. We'll be showing you both free Vtuber overlays and premium ones for those of you eager to jump in and overhaul your channel.
Free Vtuber Overlay by Hexeum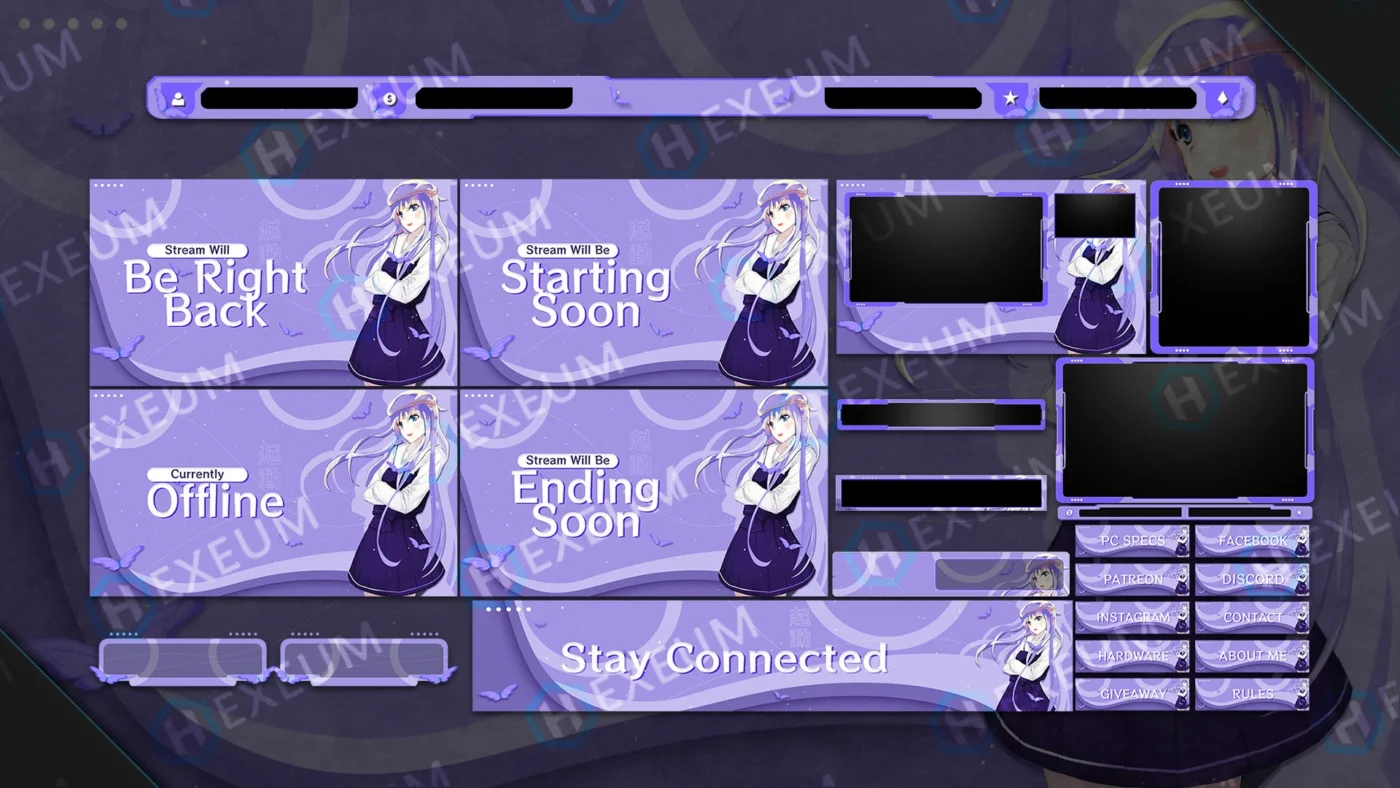 Sweet Tooth by Hexeum (Free)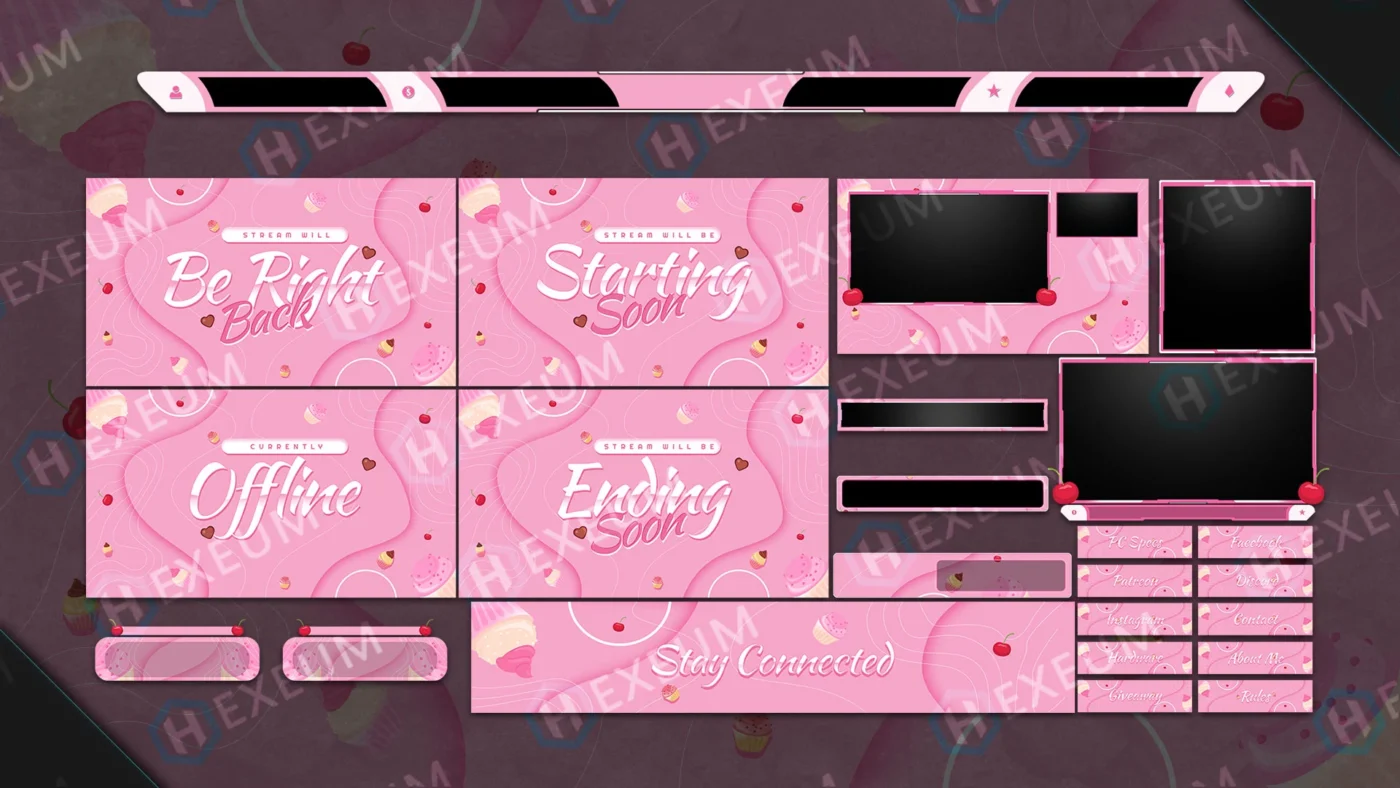 Mystic Vtuber Overlay by Hexeum
Mystic is a celestial themed overlay package. If you're looking for a pack that's easy to set up and full of features this could be a great choice for you. This stream overlay package is great any VTuber using Streamlabs or OBS as it's fully compatible. Additionally the modular nature of this package gives you a lot more control to customise the layout of your stream.
If you're new to all of this then don't worry, because we've created an in depth installation guide that will take you through all the steps necessary to get the pack integrated with your channel and software.
20 Channel Buttons
Animated Scenes (Intermission, BRB, Ending and Starting)
Animated Webcam Overlay
Animated Stinger Transition
Animated Alerts (Twitch, Facebook & YouTube)
Streamlabs Widgets (Goals, Chatbox and Event List)
Offline Banner
Animated Background
Animated Top Overlay
Profile Picture
Stream Labels
Photoshop Source Files
Static Versions Of Animated Elements
Streamlabs .Overlay File
OBS Layout File
Daydream has a pastel theme and includes a great stack of features that cover the essentials any streamer could need. The package contents range from screens, alerts to Twitch panels. If you're in the market for some cutesy designs then this package has what you need.
Free Vtuber Overlays by Fumi
During our search for VTuber overlays we came across this twitter user who has created a bunch of free assets and resources available for commercial use. These graphics are a great style match for VTubers and are perfect for those constrained by a budget. Be sure to support the designer by following and giving them a retweet.
Cozy Stream Screens by NekoKeno
If you're a VTuber that has likes to give off cosy and laid back vibes then these 5 animated screen overlays are perfect for you. Each screen is available in two versions, static or animated. 
Mystic Floral Moon Set by Moshi Mochi
Get these mystic floral moon overlays by Moshi Mochi to give your stream a gorgeous new look. The package includes 2 full screen overlays, however, you'll also get two backgrounds, 6 chat boxes, 2 webcam overlays and more. The package is available to download instantly so you'll be able to set up the same day that you buy it.
This is a highly rated package which you'll see by reading all the reviews associated with it.
Celestial Sky by Moshi Mochi
This beautiful dark blue package is a sophisticated choice for VTubers who want to give their channel a high-end feel. The package includes an array of useful features such as 7 animated screens. These animated screens are also available in static versions. The delivered file formats are WebM and PNG so you'll have no issues using them with the most common stream software.
Cherry Blossom by Cup Of Stardust
This pink Japanese twitch overlay has a cute design, with a pale pink background. Included in the package are various graphics and label elements in different shades of pink. The design incorporates traditional Japanese themes such as cherry blossoms.
This pink Japanese VTuber overlay will likely be a visually appealing and eye-catching choice for VTubers looking to incorporate flair into their channel.
Moon + Stars by Cup Of Stardust
This overlay package contains some common celestial features such as the moon and stars. The contrasting light and dark colours like the purple clouds set against darker backgrounds make this package incredibly eye catching. The package was designed to be modular so you can build your stream exactly how you like.
Black & White Overlays by AE Creative
This overlay includes 6 animated screens, 3 banners, 7 alerts and much more. If you're looking for a darker clean theme for your channel then this has everything you need. The main screen designs are set at night time with a view of a city from the distance.
Cute Stream Pack by Stream Skins
This great streaming package has a bold blue colour that incorporates various coloured elements like the stars and moon.
Ice Queen Vtuber Package by Stream Skins
This beautiful streaming package not only includes overlay but also a matching fully rigged VTuber model. If you're a VTuber and want to get all your assets in one easy download then this package should definitely be considered.
Custom Made Vtuber Designs by UWU Media
If you're looking for bespoke and hand crafted designs for your stream then check out UWU media. Although quite pricey, it's clear that they specialise and focus on the VTubing community. They have a range of different packages available at varying price points and with different elements included.
However if the pricing is an issue an alternative option would be to try creating the overlays yourself as this can be done completely free. If you have the time to undertake this then creating the overlays yourself is definitely a great way to truly personalise your graphics.
We hope this list has helped you find a VTuber stream overlay that you truly love. As mentioned previously the packages featured are both free and premium to be inclusive to as many people as possible. Remember in the case of free assets and graphics, it costs you nothing to show the original creator support by following or liking their work.
From what we've seen VTubers tend to gravitate towards either clean and minimalistic designs or ones with a strong theme that aligns with their personality. Based on this our list includes overlays that align with these features.