If you are looking for an 8-bit Twitch overlay for your stream, you've come to the right place. If you're a fan of pixel art, retro gaming we've put together an amazing list just for you. When it comes to choosing overlays for your stream, you need something that fits with your personality, interests and style. 8-bit & pixel art styles are really popular amongst the streaming community. Whether you're looking for a dose of retro gaming nostalgia or perhaps the aesthetic style simply appeals to you, your overlays and graphics should be an extension of your personality.
When it comes to creating 8-bit stream overlays for Twitch our whole team gets excited. We love exploring this art style and revisiting our childhood gaming nostalgia. Without further ado, let's dive straight into the list.
Pixel Lofi - 8-Bit Twitch Overlay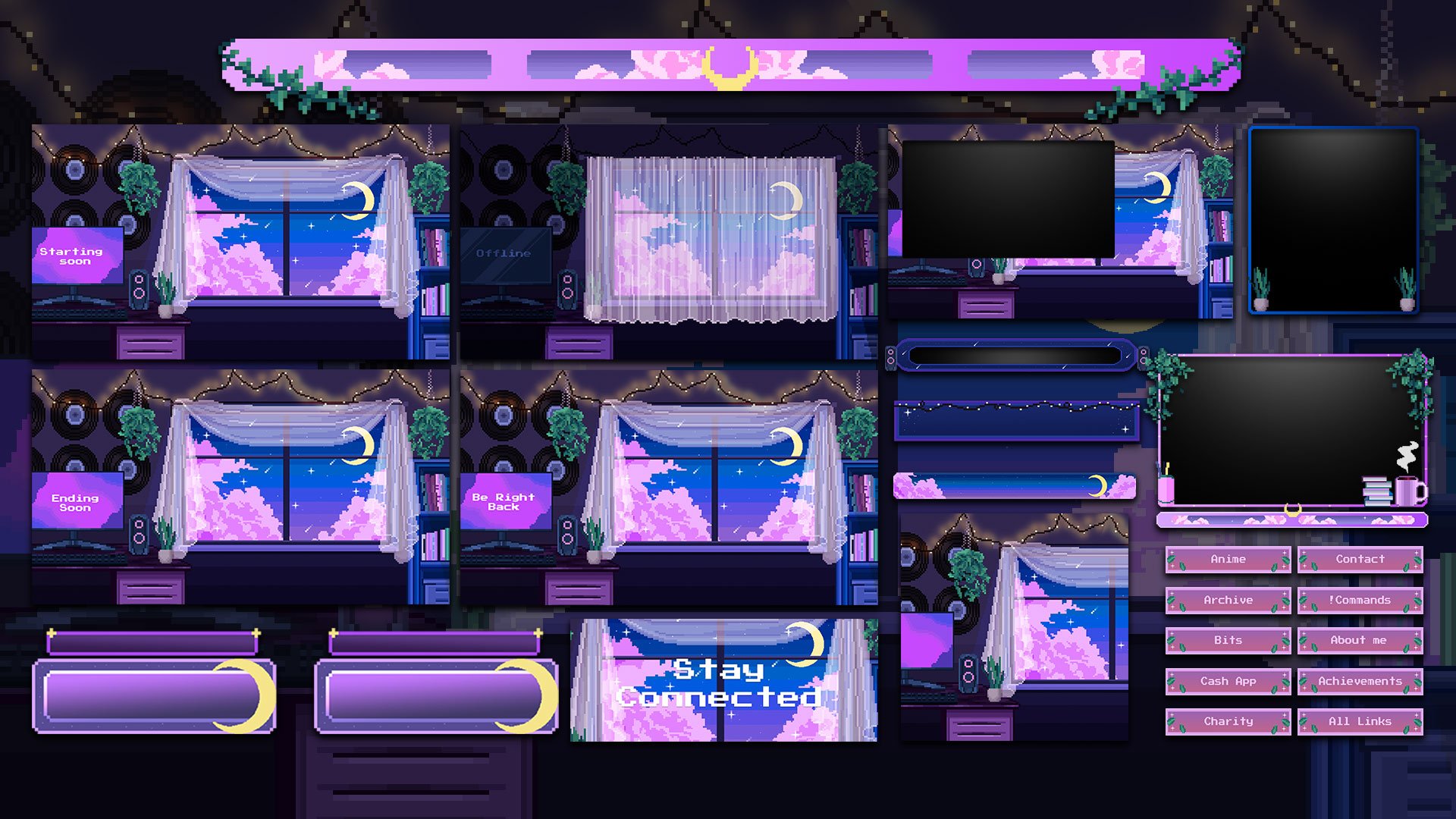 This 8-bit Twitch overlay is a pixel art depiction of a streamer's cozy bedroom setup. Pixel lofi is a fully featured stream overlay package containing all streaming essentials; Overlays, screens, alerts, stinger transitions & widgets.
If retro gaming 8-bit styles are your jam then we highly recommend taking a look at this pack.
Pixel City - 8-Bit Twitch Overlay
This 8-bit Twitch overlay is our all time favorite. Combining the 8-bit aesthetics and cityscape views, this really takes us back.
This pixel art stream overlay is perfect for Twitch, YouTube & Kick. It has everything a streamer needs; Fully animated, includes alerts, widgets and Twitch panels.
Astra - Hacker 8-Bit Twitch Overlay
This old school terminal theme is a throwback and then some ! Did we mention we're kind of nerdy ?
If you're a fan of old school terminal / hacker themes then this 8-bit overlay is perfect for you and your audience.
Relic - Vibrant Pixel Art Twitch Overlay
Definitely the coolest of our featured 8-bit Twitch overlays. This theme was inspired heavily by the indie game Hyper Light drifter.
If you've seen our stream overlay packages, you can expect the same level of features from this package. It has everything you could possibly want to get started streaming.
Nightfall - 8-Bit Twitch Overlay
Another cityscape package ! If you like dark futuristic concepts mixed with a retro gaming platformer perspective, then definitely check this overlay out.
Horizon - Aesthetic 8-Bit Twitch Overlay
Who doesn't love a fantasy themed overlay ? This quaint package was designed with peace and tranquility in mind.
Take your stream to new heights with this overlay set above the clouds.
Summit - Simple 8-Bit Twitch Overlay
This overlay is another theme with tranquility in mind. It contains all of the necessary features needed to get started in your streaming career.
Check out the awesome matching individual elements below.
Fluffy - Cute Pixel Art Twitch Overlay
This is our cutest 8-bit twitch overlay. This fluffy pixel art theme will make a great addition to your stream if you like cute little characters.
So there you have it. If you're a streamer looking to infuse a dose of nostalgia into your content or simply embrace the charming simplicity of 8-bit aesthetics, there's a world of options when it comes to Twitch overlays. Whether you're a fan of retro gaming, pixel art, or just want to stand out in the crowded streaming scene, these 8-bit style overlays have got you covered.
If pixel art overlays aren't quite doing it for you then try exploring an alternative style. Explore what cute Twitch overlays have to offer for your stream. Or, perhaps if you're still looking for some nostalgia, synthwave overlays are a great option.